Meet Marie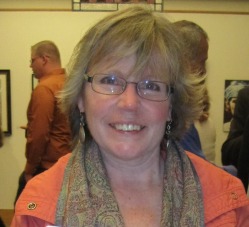 Hi, I'm Marie Luther. I live with my husband Cave and our dogs Rascal and Sparky in a quiet neighborhood in Syracuse, New York. We live on the side of a hill and I often visit a nearby rambling creek and picturesque waterfall where I find inspiration, spiritual as well as artistic, in that gentle, natural setting. Sometimes I sit near the stream and listen to its melodic whispers and let the soft light that filters between the sugar maples stir my imagination.

Syracuse University offers a busy counterpoint to my times of leisure and creativity. I have worked there in various accounting positions since 1988. But more important to my artistic development - it is there that I earned my degree in the Arts and Sciences.

I have become proficient in and enjoy many forms of artistic expression including discipline in sculpture, bronze casting, pottery building, sketching and more. But my most rewarding medium of expression is with glass... the rigid liquid that melts and flows yet through all of its manifestations allows colors to blend and light to bend, refract, and reflect.
---